Sunset at Noon by Anthony Kwamlah Johnson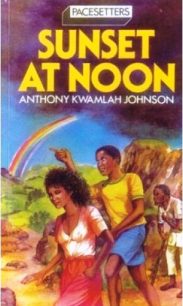 Thula is bitterly disappointed when his father compels him to leave school and become herd boy of the family's cattle. However, a chance encounter with an old man living in an isolated hut on the hills gives him renewed hope. Knowing he is near to death, the old man tells Thula of a secret hoard of diamonds he has hidden, beneath a cactus grove.
Thula determines to recover the diamonds, to sell them and use the money to further his own education and better his family's lifestyle. But he has not reckoned with the beautiful and cruel Lindiwe who, learning of the diamonds, decides to take them for herself by fair means or foul.
Please Select your Preferred Currency